Leeds SMSTS Course
in stock
£50 to secure your place (£400 balance payable anytime before your course) Select your date below:

---
Leeds Training Centre Britannia Leeds Bradford Hotel Leeds Road Bramhope, Leeds LS16 9JJ Course Location Dates Total Cost (All inc.) SMSTS (5 Day) Leeds Mon 28th Sep – Fri 2nd Oct 2020 £495.00 SMSTS (5 Day) Leeds Mon 26th Oct – Fri 30th Oct 2020 £495.00 SMSTS (5 Day) Leeds Mon 23rd Nov – Fri […]

Leeds Training Centre

Britannia Leeds Bradford Hotel

Leeds Road

Bramhope, Leeds

LS16 9JJ



Course Overview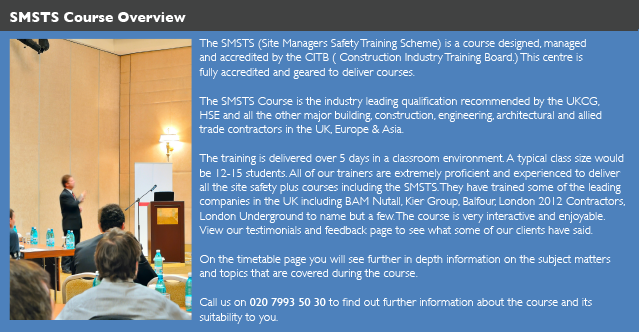 Leeds Training Centre

Holiday Inn Express Leeds City Centre

Cavendish Street/Krikstall Road

Leeds

LS3 1LY

Timetable
Timetable

More Information About the Course
Our Leeds SMSTS courses are held every month at Hilton Leeds. Learning is provided in a safe and friendly environment created specifically to get the best learning experience for students. The centre is ideal for anyone in Leeds or surrounding Yorkshire areas. Students have access to parking around the area.
The centre in Leeds is very commutable from surrounding Yorkshire areas; it is advisable to use Google maps for more information.

-York
-Harrogate
-Bradford
-Huddersfield
-Barnsley
-Scunthorpe
-Hull
-Sheffield
-Doncaster
-Scarbrough
MHS Learning Trading as Knight Learning are an accredited CITB CSkills Awards 21051
We are now delivering the following qualifications:
QUA882 – L6 NVQ Diploma in Construction Contracting Operations Management – Estimating
QUA884 L6 NVQ Diploma in Construction Site Management – Building and Civil Engineering
QUA890 – L7 NVQ Diploma in Construction Senior Management
QUB882 – L6 NVQ Diploma in Construction Contracting Operations Management – Buying
QUB884 – L6 NVQ Diploma in Construction Site Management – Highways Maintenance & Repair
QUB890 – L7 NVQ Diploma in Construction Senior Management
QUC882 – L6 NVQ Diploma in Construction Contracting Operations Management – Planning
QUC884 – L6 NVQ Diploma in Construction Site Management – Residential Development
QUD882 – L6 NVQ Diploma in Construction Contracting Operations Management – Surveying
QUD884 – L6 NVQ Diploma in Construction Site Management – Conservation
QUE882 – L6 NVQ Diploma in Construction Contracting Operations Management – General
Closest Training Centre