Glasgow SMSTS Course Deposit
in stock
£50 to secure your place (£400 balance payable anytime before your course) Select your date below:

---
Course Location Dates Total Cost (All inc.) SMSTS (5 Day) Glasgow Mon 11th Sep – Fri 15th Sep 2017 £495.00 SMSTS (5 Day) Glasgow Mon 9th Oct – Fri 13th Oct 2017/a> £495.00 SMSTS (5 Day) Glasgow Mon 6th Nov – Fri 10th Nov 2017 £495.00 SMSTS (5 Day) Glasgow Mon 4th Dec – Fri […]

Course Overview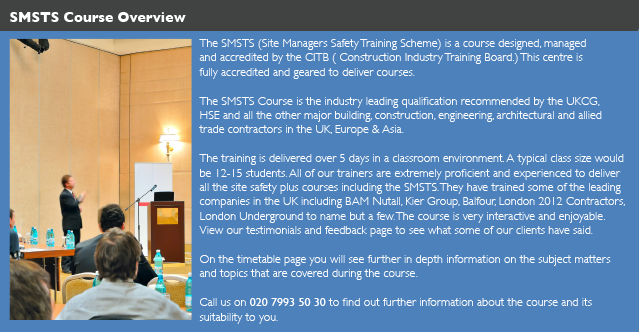 Teachers


Timetable

Training Venue
Glasgow Training Centre

The Travelodge Meeting Room

5 – 11 Hill Street

Glasgow

G3 6RP

More Information About the Course
Our Glasgow SMSTS courses are held every month at Jury's Inn Hotel and Conference Centre. Learning is provided in a safe and friendly environment created specifically to get the best learning experience for students. The centre is ideal for anyone in Glasgow or surrounding east London areas. Travel to the centre is easy with well connected transport links. All our students have free parking on site.
The centre in Glasgow is very commutable from surrounding areas; it is advisable to use Google maps for more information.

-Edinburgh
-Aberdeen
-Inverness
-Dundee
-Stirling
Closest Training Centre